For more information and request for photos, please email robyn@oakhurstcottage.com.au or contact via mobile: 0417 610 051. Home phone: 02 67345035
Cavoodles have a soft low-shedding coat of a chesnut/ruby colour with varying white markings. These puppies will be go to their new forever homes vaccinated, fully Vet checked, micro-chipped and regularly wormed every 2 weeks. Our puppies have been raised in our family home. Each pup will come with its own puppy folder including the documentation of the details mentioned, general guidance on raising a puppy, dietary advice, follow up details on worming etc and a part of the litter blanket.
Puppies will be ready from 7th September, 2013. We may be able to deliver to Sydney depending on the demand from this area.
Just a word about the photography. All photos were taken with my iphone 4S and have been cropped only in photoshop. Photos this week have been taken at night and puppies are full and contented.
Week 3 Comments
Puppies have been wormed and good weight gain by all. They are venturing off the nest to relieve themselves and are being trained at this early stage onto newspaper. I am getting some new digital scales and will report respective weights next week. I can report that the heaviest this week is Gold Ribbon and the lightest is White ribbon. The females are similar in size and weight with only a slight variation.
Week 4 Comments
Puppies are moving around better this week but not yet moving very fast. Some bigger weight gains this week with the introduciton of raw and cooked beef mince. Also some cooked leg of lamb introduced this week. Puppies have dry food on offer but not taken to it yet. Sleeping and resting well and some social interaction happening within the litter. Some puppies are sorting out a pecking order. Puppies have been booked into the Vet for the health check in Week 6. All owners will be informed as to the health status after the Vet check. Photos this week taken in the garden in beautiful sunshine.
Week 5
Photos taken inside today as it is raining. News of the week is all about the mobility of pups. They are running now, mastered the doggy door to their own grassy enclosure and garden. Eating solids three to four times a day with dry food as well. All puppies are lapping water and still looking to Mum for top-ups. She is feeding them less, little wonder considering their tiny sharp teeth that are well formed. Socialisation is happening and they are forming their friends and testing each other out. Next week, the news will be about their Vet visit.
Week 6
All puppies have been Vet checked this week and are deemed in a sound and healthy condition. Puppies also received their vaccination and microchip. Moderate weight gains this week with the average around 200 grams. There is less dependence on mothers' milk and more eagerness for supplements such as beef mince, cooked chicken and fresh rabbit. Puppies are still eating only small quantities. Some eating dry food but not taking this on as yet. They are all lapping water and toilet training has been much better this week with very few mistakes. All have mastered the doggy door to their play and grassy areas. Next week in week 7 will be the last update before delivery when all the new owners can happy try and catch that perfect photo which is of course very hard to do. Photos this week were taken outside in midday sun.
Week 7
Photos are hard to come by now as puppies are full on running everywhere. They eventually run out of energy and then sleep for hours. Puppies are eating and drinking well with good weight gains recorded again this week. Weaning from mother's milk is underway. Next week new owners will be able to take their own photos. Delivery is on September 6th or as otherwise arranged. Puppies are socialising well and venturing further into the yard. It is so important that they have a safe place to return to which is the nest here at home. Hope you enjoy the last photos taken outside.
Female White Lace Cavoodle
Polly
A distinctive love heart shaped white marking on top of head with white markings above nose, four white socks on feet, large white breast, white tip on tail and overall the lightest coat colouring of the litter.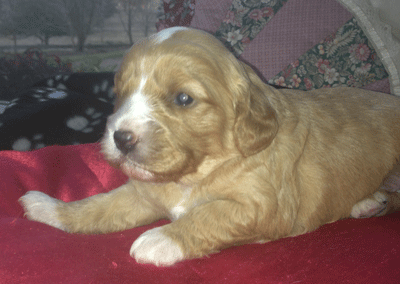 Week 3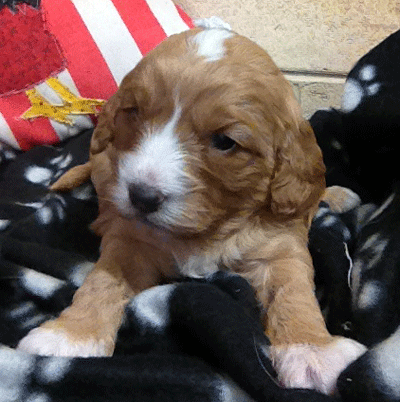 Week 4
Week 5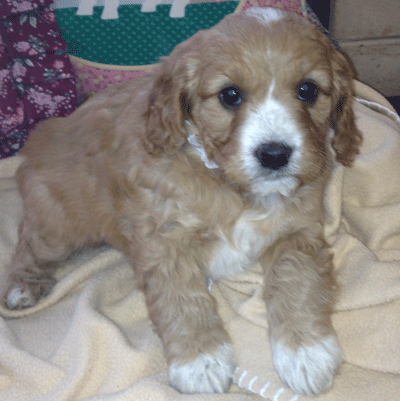 Week 7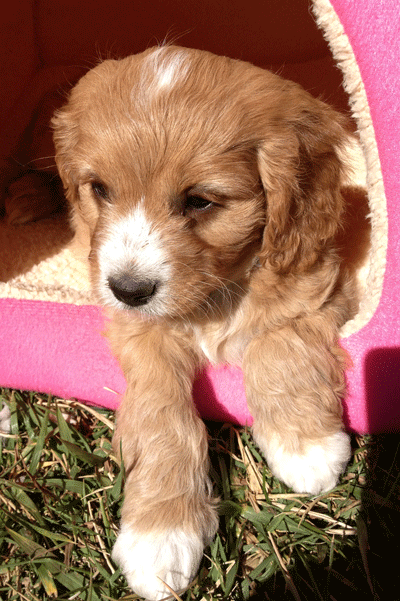 Female Lime Green Ribbon Cavoodle
Nebraska
Tiny white tip marking on top of head, little bit of white under the bottom lip, four white feet, two back feet have more white, white chest markings and white tip on tail.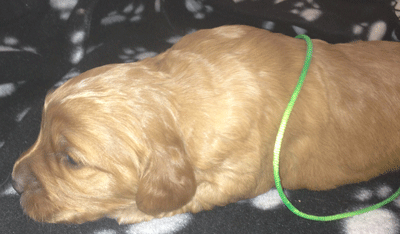 Week 3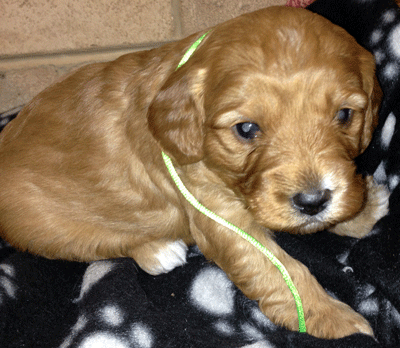 Week 4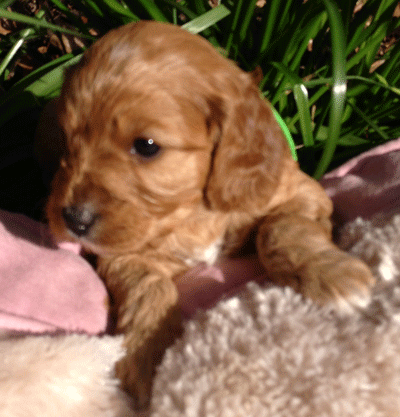 Week 5
Week 6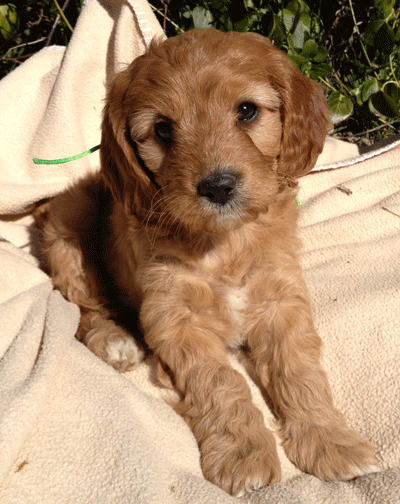 Week 7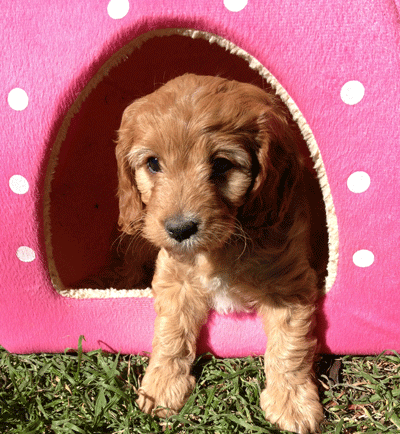 Female Hot Pink Ribbon Cavoodle
Bess
Small white dot marking on top of head, four white feet, two back feet have more white, white chest markings with white tip on tail.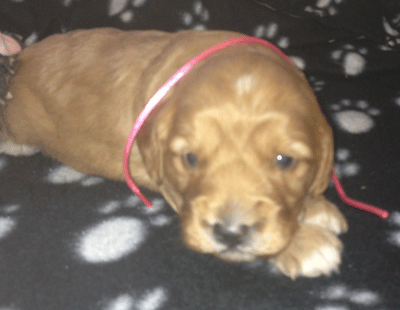 Week 3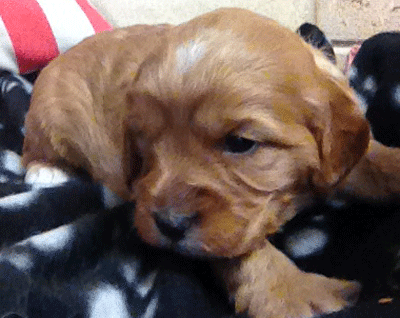 Week 4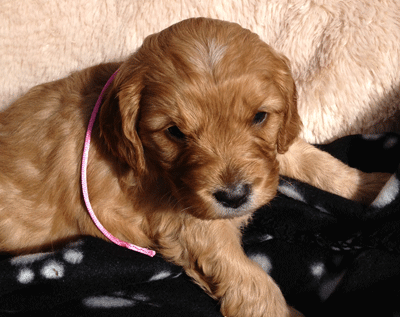 Week 5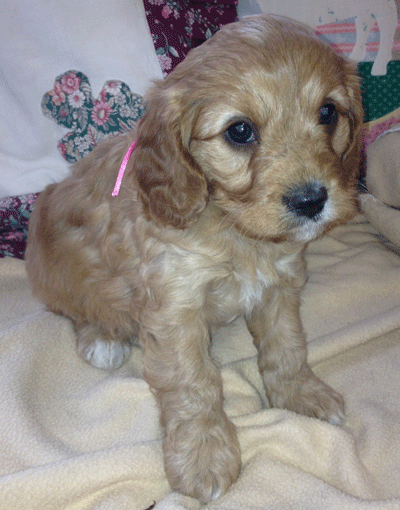 Week 6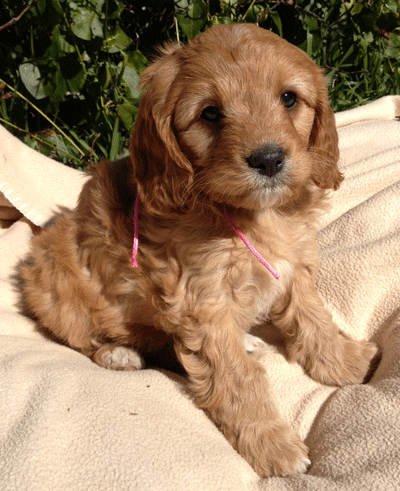 Week 7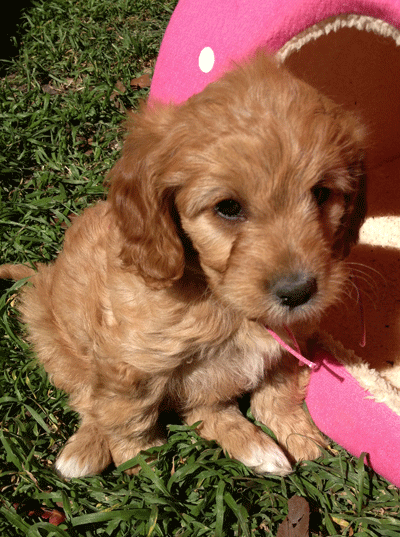 Male Dark Blue Ribbon Cavoodle
Royal
Head clear of markings, small white markings on toes, more white markings on the back toes, small white area on chest, no white tip on tail.

Week 4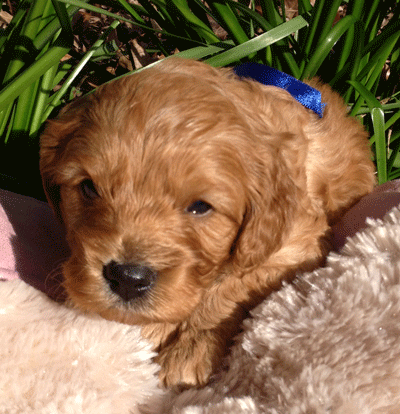 Week 5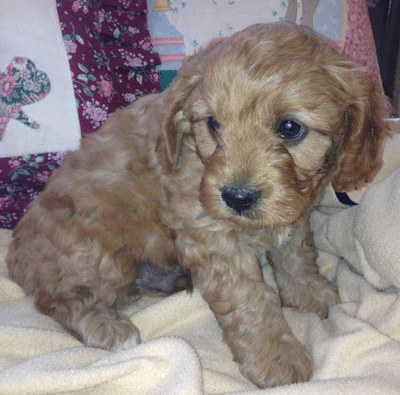 Week 6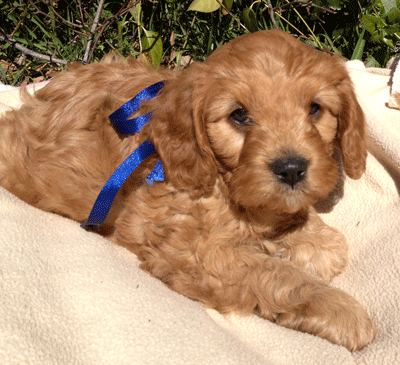 Week 7
Male Dark Green Ribbon Cavoodle
Murphy
Large white dot marking on the head, four white socks, white areas on chest, white markings above the nose, white markings on the neck too.
Week 3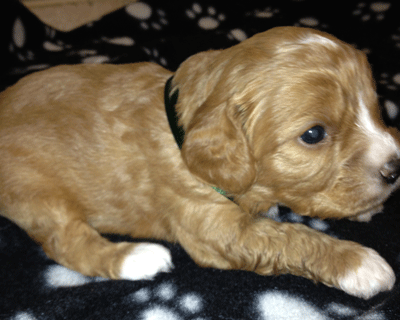 Week 4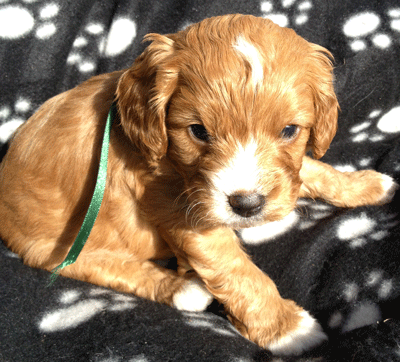 Week 5
Week 6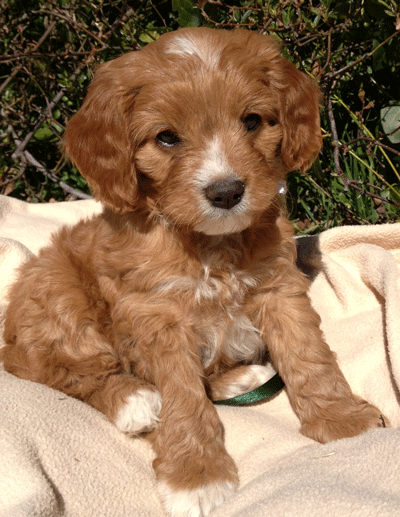 Week 7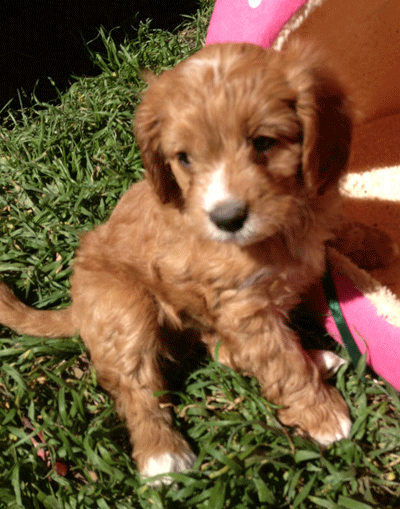 Male White Ribbon Cavoodle
Parsley
Small white tip marking on head, four white toes, white areas on chest.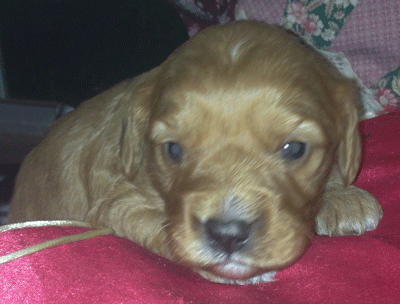 Week 3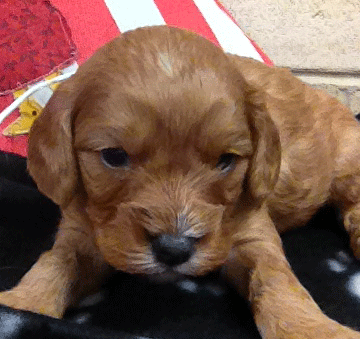 Week 4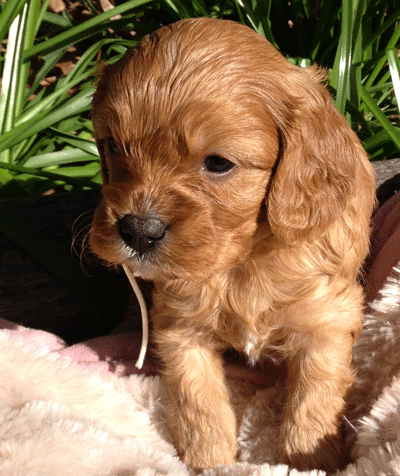 Week 5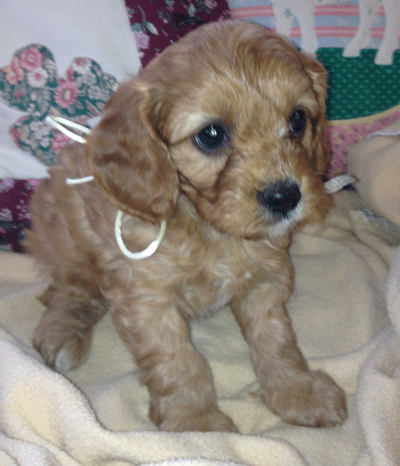 Week 6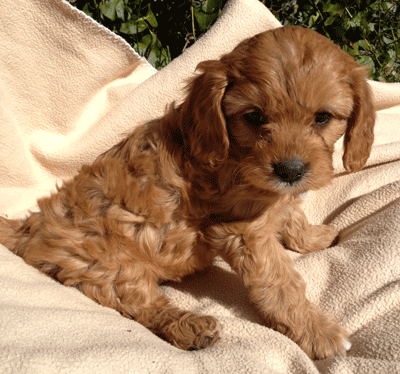 Week 7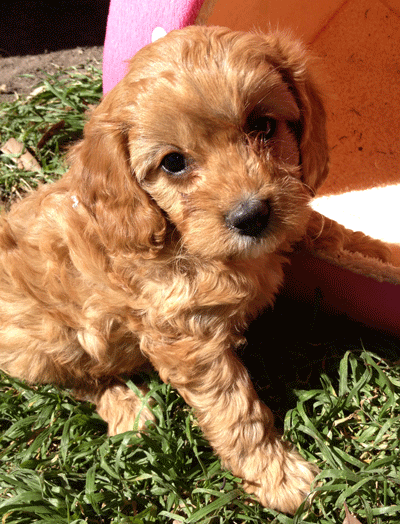 Male Gold Ribbon Cavoodle
Barry
Head clear of white markings, small white on toes with most white on front right foot, square markings of white on chest, with no white tip on tail.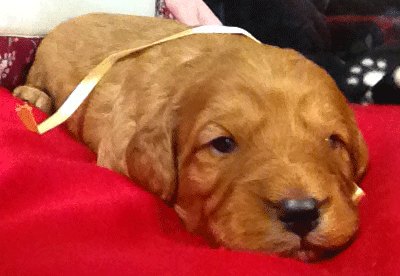 Week 3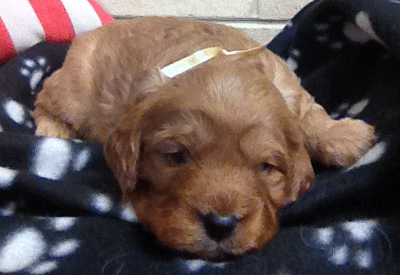 Week 4
Week 5
Week 6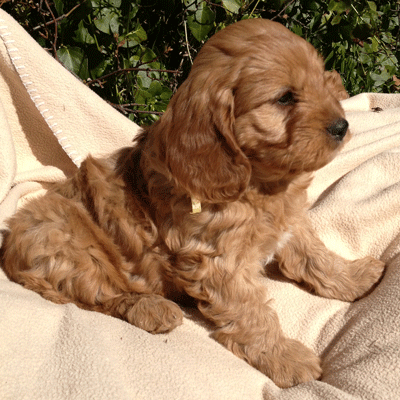 Week 7
Kind regards, Robyn
Breeder: Robyn Johnston
Address: "Oakhurst", Deepwater, NSW 2371
Phone: 0417610051 - 02 67345035