Current Litter
Mother - Suzie (a pure bred registered King Charles Cavalier)
Father - Wildee (pure bred toy poodle)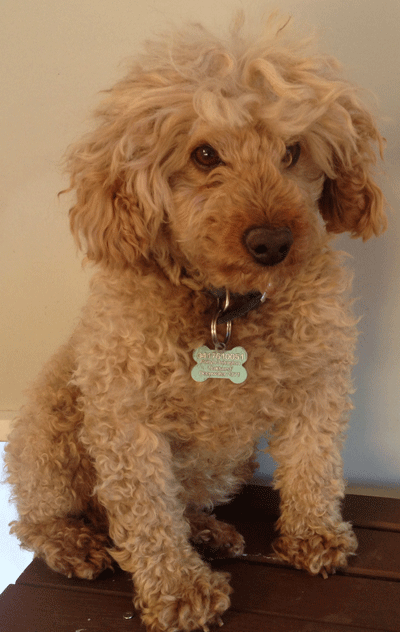 Lilly has had eight puppies on 15th March, 2015. We have 4 males and 4 females and they will be ready for delivery in mid May.
These cavoodles have a soft low-shedding coat of a tan to chesnut colouring with varying white markings. These puppies will be ready to go to their new forever homes vaccinated, fully Vet checked, micro-chipped and regularly wormed every 2 weeks. Our puppies have been raised in our family home. Each pup will come with its own puppy pack including the details mentioned and a piece of the birthing sheet and a part of the litter blanket.
There are lots of updates and photos on the BLOG. Please check it out.
Week 4
Puppies are on the move and exploring their surrounds. Having more awake time but still spending many, many hours sleeping and growing. They are starting to communicate with each other with little noises, some growls and interaction of a playful nature. Lilly is starting to spend more time resting away from their nest as she is pested often. She is starting to feed them standing up now while puppies lie on their backs with feet in their and tails moving furiously. Next week photos will be more challenging as they will be hard to hold and keep still.
Week 5
Puppies are able to run and play now. Personalities are developing and puppies are playing more in their awake time. Food has been introduced and they are eating small quantities twice daily. This will be increased to three times in the next few weeks. They are enjoying cuddles and interaction with people making them great time wasters.
Week 6
There are not too many foods that the puppies haven't tried now. They are being introduced to an array of offerings in preparation to their transition to solids. All puppies are lapping and enjoying water. Moderate weight gains this week. As puppies are becoming more active they are exercising more and weight gain isn't as rapid.
Week 7
Puppies are out exploring the garden and seizing any opportunity to extend their explorations further and further. All are running, chewing, playiing, wrestling and having a great time when awake. They are still sleeping lots during the day. The weaning off mum has started and some have self-weaned. On the blog is a video of them all suckling. My amateur photography is of full display this week as I have realized when doing the editing of the photos that the camera lense was smudgy and dirty and unfortunately this is evident. In addition, I have somehow managed to take the photos this week at a weird angle. I was totally unaware of this at the time however. Hope to improve on that next week.
Week 8
The puppies are so active now, running absolutely everywhere. They are so fast that keeping them still for a photo shoot is nearly impossible. Only 6 more days to delivery to their forever new homes. If new owners would like a week 8 photo, please contact me directly as it won't be long until you can hold them for yourself and take as many photos as you wish. I intend to post a Youtube of the whole litter. It will be challenging identifying some of the pups, so I expect this video will have to be replayed several times. Puppy weights will be updated on the blog. All puppies are eating solidly three times a day for the next week in preparation for their new homes. It has been a good decision to hold the puppies over the extra week as many of them now are so supremely confident with good self-esteem which augers well for a positive transition to their new home.
Gender

Puppy ID

Male
Alfie (Celtic Green Check) SOLD - Amanda

Week 4

Week 5

Week 6

Week 7

Male
Hendricks (Floral Green Bunches)SOLD - Katie

Week 4

Week 5

Week 6

Week 7

Male
Ringo (Gold Flick Green) SOLD - Lisa & Liz

Week 4

Week 5

Week 6

Week 7

Male
Humphrey (Leaved Pattern Green) SOLD-Jennifer

Week 4

Week 5

Week 6

Week 7

Female
Shelby (Dark Maroon) SOLD-Allison

Week 4

Week 5

Week 6

Week 7

Female
Pippa (Flowered Gold Pattern) SOLD- Judy & Ian

Week 4

Week 5

Week 6

Week 7

Female
Poppy (Wildflower Red Pattern) SOLD - Josephine

Week 4

Week 5

Week 6

Week 7

Female
Pixie Pie (Patterned Gold) Sold-Debbie

Week 4

Week 5

Week 6

Week 7
Breeder: Robyn Johnston
Address: "Oakhurst", Deepwater, NSW 2371
Phone: 0417610051 - 02 67345035