This litter is a mini cavoodle litter which imeans the puppies will be taller and heavier than our toy cavoodle litters. Puppies will grow to approximately 30 - 40 cms and weigh from 8 - 12 kgs.
For more updated photos of these little puppies tracing their milestones over the next few years, go to the Blog Page for Daisy's Litter 2016.
Current Litter
Mother - Daisy (a pure bred registered miniature Poodle)
Father - Ralph (pure bred registered King Charles Cavalier)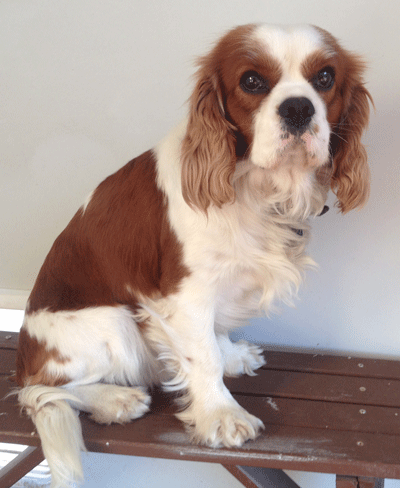 Daisy has whelped seven puppies on 15th April, 2016. She has four females and three male puppies. These puppies will be ready for their forever homes from 10th June, 2016.
For more information on the purchasing process, please email robyn@oakhurstcottage.com.au or contact via mobile: 0417 610 051. Home phone: 02 67345035
Cavoodles have a soft low-shedding coat of a chesnut colour with varying white markings. These puppies will be ready to go to their new forever homes vaccinated, fully Vet checked, micro-chipped and regularly wormed every 2 weeks from 10th June, 2016. Our puppies have been raised in our family home. Each pup will come with its own puppy pack including the details mentioned and a part of the litter blanket.
There are lots of updates and photos on the BLOG.
Gender

Puppy ID

Male

Celtic Green Check

ARCHIE

SOLD

Brendan & Kelly

Week 4

Week 5

Week 6

Week 7

Floral Green Bunches

CHARLIE

SOLD

Claire

Week 4

Week 5

Week 6

Week 7

Gold Flick Green

CHARLIE

SOLD

Sam

Week 4

Week 5

Week 6

Week 7

Dark Maroon

RUBY

SOLD

Sandra & Bill

Week 4

Week 5

Week 6

Week 7

Flowered Gold Pattern

MILLIE

SOLD

Jacqui

Week 4

Week 5

Week 6

Week 7

Female

Wildflower Red Pattern

HONEY

SOLD

Sheree

Week 4

Week 5

Week 6

Week 7

Patterned Gold

PIPPA

SOLD

Lorena

Week 4

Week 5

Week 6

Week 7
Breeder: Robyn Johnston
Address: "Oakhurst", Deepwater, NSW 2371
Phone: 0417610051 - 02 67345035