Phone the hosts if you have any queries before booking.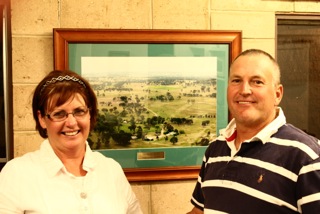 Robyn and Steve Johnston
Phone: 02 67345035
Mobile: 0417610051
Hosts:
Stephen and Robyn Johnston
1/77 Oakhurst Road
DEEPWATER NSW 2371
email: robyn@oakhurstcottage.com.au
Compare the value of our cottage
to any accommodation at a motel or hotel and there is no comparison !! Book Now and Pay Online:
You're only a click away from making this view a reality.
Use this link to contact us directly email: robyn@oakhurstcottage.com.au
The cottage has its own private garden with a secure fence. The cottage is situated on 2450 acre working farm enterprise comprising a Border Leicester stud, merino flock, prime lambs and cattle operation. There are hens, pet sheep and other farm animals in paddocks around the cottage. Your pets are welcome too. We do prefer payment by cash. Just email to confirm your date and indicate payment by cash.
Directions for Parking at the Cottage
As you travel towards the cottage come through the cattle gate in the background of the photo below. Drive towards the rear of the cottage and park near this garden gate. You will then have a cement path to access the cottage. In no time at all, you will meet TuTu who will be the first to welcome you to your farmstay
.