Stud Began 2007...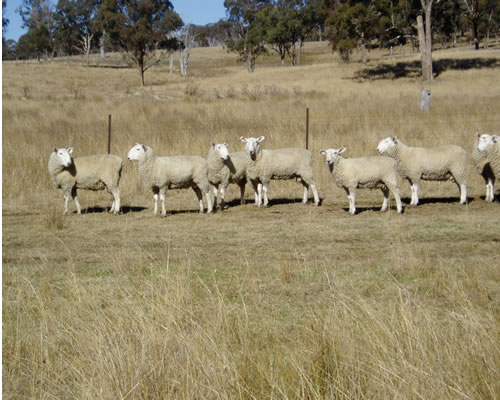 During the winter months, of 2007, we approached our stock agents about the acquisiton of quality border ewes. There were very few on offer until our agent contacted Mr Ian Micheel of Campaspe River [flock number 1753] "River Gum", Glen Innes. As it happened, Ian was relocating to Victoria and the opportunity arose for the dispersal of some ewes. With 40 ewes and the purchase of a stud ram Campaspe River L-807 [son of River Gum Ranger D2835] our stud was conceived. Official notification was received on 8 August 2007 with the acknowledgement of our prefix "Oakhurst" and flock number 4769
---
Ewe Base
The success of any flock is through the strength of its females. The forty females selected as the core breeding dams from the Campaspe River Stud were chosen for 'true to type', confirmation, frame and wool type.
The New England area has a renowned history of growing premium fine merino wool. There is an abundance of Australia's dominant sheep breed in the area. We hope to market our Border Leicester rams to clients who wish to join their Merino ewes who are CFA or in their final years of wool production to climatised Border Leicester rams.
In addition, there are many graziers in the area who are specialist prime lamb producers. These producers are seeking the superior maternal first cross ewe. The Border Leicester x Merino cross ewe has become renowned for producing and raising high percentages of top quality lambs that grow rapidly to heavy weights.
The first cross (both ewe and wether portion) also have a far superior skin than the Merino skin, with the elimination of wrinkles and ribbing. This superior skin value is also extremely important when passed onto the 'second cross' lambs in the prime lamb industry.
---
Leading Sire Campaspe River L-807
Son of River Gum Ranger D2835
Our stud is based on the genetics of Campaspe River (founded 1948). Affectionately known as Ranger, this sire has had a profound effect on an upcoming ewe base. Due to his age, he passed in 2011 and our new sire acquired from Bruce Davidson "Chain-O-Ponds", Walcha has been mated with 2009 drop maidens.
Stud Sires with influence from Campaspe River include:
River Gum Ranger BE831/99 (D2835)
Hewitt 141/2001 (D5037)
Campaspe Banjo YR828/2002 (D5578)
Wellingrove R104/2002 (D6111)
Chain-O-Ponds Camp 2 Green 300/2002 (D6112)
River Gum Bill 4th SH719/2002 (D6599)
We will be selectively breeding for true to type Border Leicester sheep with a medium size head, smooth crown and full and even face to a Roman nose. Hind quarters that are broad square and deep with shoulders being level with back. We aim to breed to produce a fleece that is uniform with soft handling lustrous wool.
Purchase of a new Stud Sire - Chain-O'-Ponds in February 2013 "17 Black/11" Equal Top Price Ram
In 2015, a new second stud ram was acquired from Abberley Park - Cracker 0698/13
In 2017, two young two tooth rams were acquired form both Abberley Park and from Chain-O'-Ponds.
I